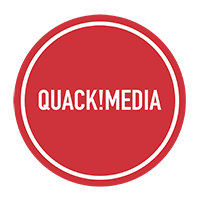 QUACK!MEDIA
Services
Our vertically integrated system allows faster, better, cheaper creation and execution of advertising campaigns and programs. Services include:
BRAND
Research
Identity
Planning
Competitive Analysis
Definition
Consulting & Guidance
CREATIVE
Strategy
Art Direction
Copywriting
Illustration
ADVERTISING
Production Design
Layout
Media Planning
Media Buying
Media Tracking
Campaign Development
Digital / New Media
OOH (Billboards, Signs)
Direct Mail
Radio
Television
Print
Sourcing & Traffic
PRODUCTION
Script
Storyboard
Post Production
Motion Graphics
Editing
Videography
Radio & Television Production
Custom Music
Licensed Music
Animation
Character Design
Illustration
DIGITAL
Website
Social Media
Digital Video
Integrated Campaign
Analytics
Retargeting
Email
Mobile
COMMUNICATION
Brochures
Collateral
Sales decks
Newsletters
Presentations
Annual Reports
Clients
We value broad industry experience. What can a pro sports team learn from a seaport? Hire us and find out.
CONSUMER/RETAIL
Dearborn Brand
Busch's
Katherine's Catering
BTB
Flocktag
Groupor
Logan
FINANCIAL/PROFESSIONAL
Huron Capital Partners
RFC Financial Planners
Richner + Richner
URS Corporation
Selling Ann Arbor
First Martin Corporation
Midwestern Consulting
MS2 Software
O2 Partners
ENTERTAINMENT
FOUND
Cartoon Network
Disney
Warner Bros.
NON-PROFIT
The Shelter Association of Washtenaw County
Ozone House
Ann Arbor Symphony Orchestra
Detroit Improv Festival
Amara Conservation
Ecology Center
EDUCATION
Center for Entrepreneurship
Eastern Michigan University Athletics
Cranbrook Schools
Lincoln Consolidated Schools
Teacher's Discovery
Tacoma Community College
ThinkStretch
CIVIC/GOVERNMENT
Port of Long Beach
Ann Arbor District Library
City of Ann Arbor
TheRide
AirRide
SPORT
The Detroit Red Wings
The Fraker Group
Poto MBA
Company Information
Quack!Media is a vertically integrated advertising agency founded in 2003. Our clients are massive international companies and small local business. Every client is given our full team and attention.
Whether you need à la carte design, video services or a full agency of record, we will enthusiastically succeed.
Call us, or better yet, call one of our clients.
pastrami@quackmedia.com • 734. 769. 4929 • 320 S. Main St, Ann Arbor, MI 48104